I have some free time, and kind of impulsively purchased an entry-level duelling lightsaber from Hong Kong. So here is my musings on how to inform it with historical practice. I'm shooting from the hip here, mostly on memory, but it is informed by reading on wookiepedia, the lightsaber and lightsaber combat pages, so by all means check that out.

What I got:


I purchased the Darksaber V3 from Darkwolf (https://darkwolfsabers.com/shop/ols/products/new-darksaber-v3-color-changing). This is a lightsaber modelled/inspired by the Darksaber from Clone Wars and the Mandalorian. I liked the design and it has a kind of limited crossguard. I do not know the lightsaber scene. While Brisbane has a HUGE historical fencing/HEMA, my inquiries turned up little on competetive lightsabers. By this point I feel pretty informed on historical fencing but I cannot claim to be informed on lightsaber duelling, in Australia or outside of it.
My assumptions about the lightsaber:

I am assuming in real life a glancing hit would be deadly on a molecular level. I assume the handle is made of a lightsaber resistant material. The expanded universe had plenty of lightsaber resistant materials such as beskar, phrik alloy and cortosis weaves. The new continuity at least has Beskar/Mandalorian Steel added back in as per the Mandalorian. This also means I assume the little crossguard my saber has is not just for decoration.
https://starwars.fandom.com/wiki/Lightsaber/Legends#Lightsaber-resistant_materials
How a saber would move:
My head canon is that the lightsabers function like a gyroscope, which was something explicit in the expanded universe. This means that the lightsaber should be awkward to redirect hence favouring motions that continue the inertia rather than rapid changes. This is the 'explanation' of why lightsaber choreography tends to be really spinny (we know in reality that just looks good to peeps). So I want to make some effort to incorporate flow, and curved motions (like Bolognese fencing plays). Also, lightsabers supposedly repel (like seen in the saber clashes) meaning beating and cutting actions are so much better. Better to beat the enemies sword away, or to use the repel effect to prep their next attack/rotation.
https://starwars.fandom.com/wiki/Lightsaber_combat/Legends#Overview
Lightsaber styles:

I am passingly familiar with the canonical styles, atleast in Expanded Universe. None of them seem too consistent across media, and they're pretty poor examples in my opinion.

Look at how Soresu, meant to be a defensive stance and good for deflecting blaster bolts has this as its opening stance.


The sword is held back and in a way where it does not defend you, from attacks to and through the centre.

The body is in a posture where to do anything to align itself it needs to step forward.

The point is forwards meaning it covers the smallest area possible.
If you want a basic defensive stance the sword should be held vertically and centre, only slightly tilted. You could have the hand/hands high and the blade hanging, or you could have the hands low and the blade aimed up. This would mean you cover the most area by default, and can deflect or block any attack with minimal movements. If you want a basic defensive stance to start in, that would be it.
That's just an example of why I would not emulate the styles provided and their illustrations.

Another would be that Makashi firstly never appears the same way in media and secondly when Dooku does it in the films (not entirely bad) it lacks the complex hilt that makes it an effective real-world fencing stance. So all the people who will comment that 'Dooku did Destreza' and Destreza is legit, therefor Makashi is best lightsaber style…. I would say you are close in that it is at least informed by Christopher Lee's fencing experience, but its not quite optimised for lightsabers.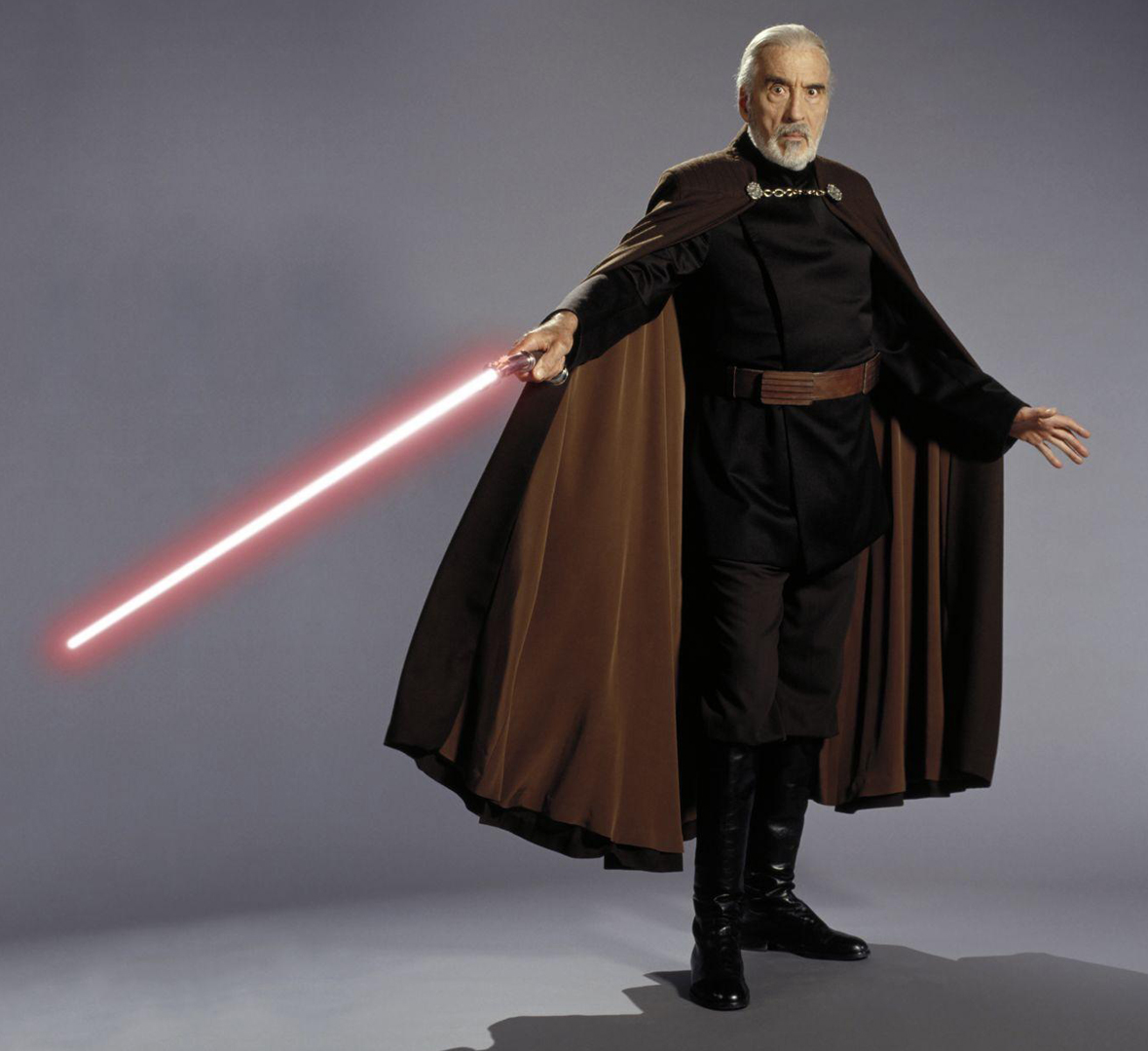 https://starwars.fandom.com/wiki/Lightsaber_combat/Legends#Seven_Forms_of_the_Jedi_Order
Big difference from real swords:
My impression is that the lightsaber will not favour the thrust. You cannot achieve easily a thrust with opposition (or at all with no crossguard) meaning you are vulnerable even if you hit them.
Point online and extended guards will leave the hand and arm very exposed without a complex hit, which differs from historical fencing where they provide the fastest attack (direct thrust) and greatest defence (through the cone of defence made by the hilt and extended arm).
Getting close to disarm or grapple with your off-hand will also lead to increased danger since a lightsaber can harm you with little movement. A real sword is fairly ineffective when you are inside the enemy's point and their effective range, since it needs some wind up to start the more harmful actions. If you are 'really' good at these options they are viable, but it is just so much more risk than regular swords.
Naturally edge alignment does not matter, body structure will.
One-handed or two-handed:
I am trying to provide guidance that works for both. Which is more viable will depend on your hilt as longer handles favour two hands, and shorter favour one. My own saber had a little extender to make it suited to two-hands, but this was perpetually loose and the bolt fell off so I've left it off.
Instead of trying to say how the techniques differ individually I'll attempt to provide a disclaimer here on the differences.
Two-handed will immediately reduce your reach, you will have both hands tethered to the saber, meaning one part of your body will be dragged across your body if only slightly. This kind of messes up profiles of the body. It is not all disadvantaged though, since with two hands you will be stronger and faster, and can rapidly redirect attacks (not sure how this interacts with the gyroscope effect, but probably mitigates it).
A good example of this is the Zwerchau, as can be demonstrated in Martin Fabian's video where he does the 'Zwerchcopter challenge' (https://www.youtube.com/watch?v=8dReOlmijX4). By using one hand to pull, the other to push, and rotating the body (mostly with the hips) incredibly fast attacks can be made at a mostly horizontal angle. A single hand can do this by rotating the arm/wrist but its not as strong or fast.
For one-handed style, you will more easily profile, and can extend your arm with that profile to achieve greater reach. The two-handed lightsaber fencer can achieve even greater reach hypothetically by releasing one hand from the sword which might actually be very viable with a lightsaber (to be considered more later). The real advantage of the one-handed style is how freeing it is to have only one hand on the sword. You can move the entirety of your body without both hands connecting your shoulder to the sword. you do not need full-body motions like with the longsword because your dominant hand is free to act independently of the rest of the body, the other hand and shoulder are not along for the ride. All reach comes from the shoulder.
Stances:
I think this is going to be more preference.
Inferring the lessons from historical fencing schools, you will probably want your left foot (or non-dominant foot) forward for the two-handed grip since this allows you to build up some body rotation on your actions, but I expect it to involve shifting between left and right leg forward, just as Longsword treatises typically advise.
Single sword will prefer right foot forward since this allows them to maximise their reach, but in lightsaber I don't think this will be as important, since you cannot maintain a defense of the right angle (Destreza) or straight posture (pretty much all rapier styles after a certain point, mostly Fabris-influenced). As mentioned before these don't have a complex hilt, or a good crossguard and leave the hand/arm really vulnerable. I suspect the arms to be fairly retracted since a glancing hit to the arm will leave you defenceless (we see plenty of instances in Star Wars where people lose hands and arms).
As for your lean, probably up to you. No reason not to just have a balanced upright stance. Being manoeuvrable will count for a lot. But I could see reasons for a back lean, or a forward lean. A forward lean will help you press forwards, a backwards lean will help you achieve lunges.
A lightsaber probably does not need too much power so having a wide stance is less necessary. Grappling will be so dangerous you shouldn't be concerned with sinking your weight into a low stance.
I'd say a natural and upright stance is best and most versatile but no reason not to shift.
Aggressive and Defensive:
We have all the fictional lightsaber styles that don't really relate to their 'description' in 'practice'. Jedi Knight Academy actually did a much better job, simplifying the styles into three; Standard, Strong, Fast.
The positions in standard, strong and fast were actually pretty faithful to real sword positions and they did some legit actions.
I think I would simplify things even more to Aggressive and Defensive.
Defensive:
A defensive stance would be like the one I described in Soresu before. Hands forward, blade tilted across the centre. This making coverage higher, and parries/blocks quicker.
Since the lightsaber is already extended forward it has less places to go, to build inertia it would need to start a rotation at the wrist, or retract first to prime a more committed attack. Doing actions from the wrist is fairly fast but inherently weaker, and you lose time retracting your sword to do attacks more with the elbow or even shoulder. Think a bit of boxers doing their 'peak-a-boo' kind of stance (yes, I love Hajime no Ippo).
They can cover the centre and cautiously press in, but they can't really throw good punches from there. This would work well for snagging an opportunistic elbow hit if someone forced you into a retreat (When they attack you they open themselves up).
I would separate this into hanging guards like seen in some later German systems, or in Silver (true guardant). A good example of this concept is this blog post: https://elegant-weapon.blogspot.com/2015/05/episode-31-fighting-from-bow.html?view=classic
The other would be to have it forward like Pflug or Langenort in longsword or even more aptly Joachim Meyer's Gerade Versetzung (straight parrying). A good description here: http://wiki.scholarvictoria.com/index.php/Gerade_Versetzung
Ironically these kind of weapon forward stances appear in the 'offensive' styles of lightsaber combat, yeah, more reason why I don't care for the EU styles.
Main guards:

Joachim Meyer's Eisenpforte, Gerade Versetzung and Bogen
Recommended style: Joachim Meyer's Rapier.
Aggressive:
Aggressive to me would be the sword retracted so you can do vicious actions, for a lack of better words comboing. Imagine the zwerchau action before used in a way where you press forwards delivering attacks at different angles fast.
Having the sword retracted means you have the burden of launching fierce attacks to make up the time of bringing them forward, and you can also chain them more effectively rolling the cuts through when they fail to maintain the attack.
I guess with the weird gyroscope of the lightsaber you'd turn into whirling death, since its easier to rotate the attack into another attack then to halt and redirect.
I think a good example of this kind of thing is the Bolognese styles where they often throw multiple cuts, or when ending a technique will cut out. The cut is an attack and a defence and they will involve two or three actions typically. So if you think of throwing a horizontal cut, and then a wrist cut out, or throwing a wrist cut, and then rolling through into a wrist cut to another opening.
Basically a lot of feints and clearing cuts.
Think of Joachim Meyer's Unterhut in rapier (http://wiki.scholarvictoria.com/index.php/Unterhut) or the Zornhut (http://wiki.scholarvictoria.com/index.php/Zornhut)
The attacks are big and powerful rather than minimal and opportunistic.
Main guards:
Joachim Meyer's Zornhut, Wechsel, Nebenhut/Unterhut
Recommended style: Joachim Meyer's Dussack.
Why Joachim Meyer:
I probably recommend Joachim Meyer because I am more familiar with his work. The other part is his kind of fencing was very into cuts and dynamic. Since systems optimised for thrusts with opposition are less effective in lightsaber Joachim Meyer works better. He also has that trait of Bolognese fencing of doing multiple cut sequences.
Fighting competitively:
I think the defensive style I have suggested would work best if there are no rules selecting for certain actions. If you are just attempting to hit them without getting hit, to make that touch, then you may as well have your weapon forwards and go for opportunistic attacks. If certain levels of speed or rotation are required then the aggressive style I have painted would work better, and I honestly think it would be more fun and showy.
Dealing with thrusts:
If you are thrust, you should beat it. This can be kind of like a light parry, simply to deflect their attack but this presents very little opportunity since any riposte you do might see them hit you in that same time. So, a more aggressive beat I would suggest something like Joachim Meyer's knocking cut (bochhaw) where you cut their weapon away to provoke them into giving a response or opening.
Good examples of the kind of parries I am thinking are here:
Slicing off:
Striking out:
Dealing with cuts:
Mostly in the same way as thrusts. If the enemy is giving committed attacks or predictable attacks you can probably make shorter parries with quick ripostes (cuts). A cut has a bit more power to it than a thrust so you might want to step offline at the same time as your parries, more so than thrusts, so you get a better strength or angle (Even a lightsaber probably has strong and weak of the sword? I do not know physics too good).
Feints:
Feints will matter, especially as people in reality do not have the precognition of the force (probably a bit late to mention that). To feint well, you give minimal commitment to a real attack. By minimal commitment I mean short parries and then a follow up attack as their sword is defeated and they move to their next action. Also things like taking a small gaining step with your rear foot on the first action so you can take a full step with your second intention, and many variations of this kind of thinking.
When delivering feints you should attack to opposite openings e.g. left and right or low and high or any combination. When they parry your initial attack they'll open the side opposite.
Conclusion:
Do Joachim Meyer's Dussack and Rapier, and assume thrusts are dangerous, and recognise you don't have a significant crossguard. That's how I would suggest fencing with a lightsaber efficiently.